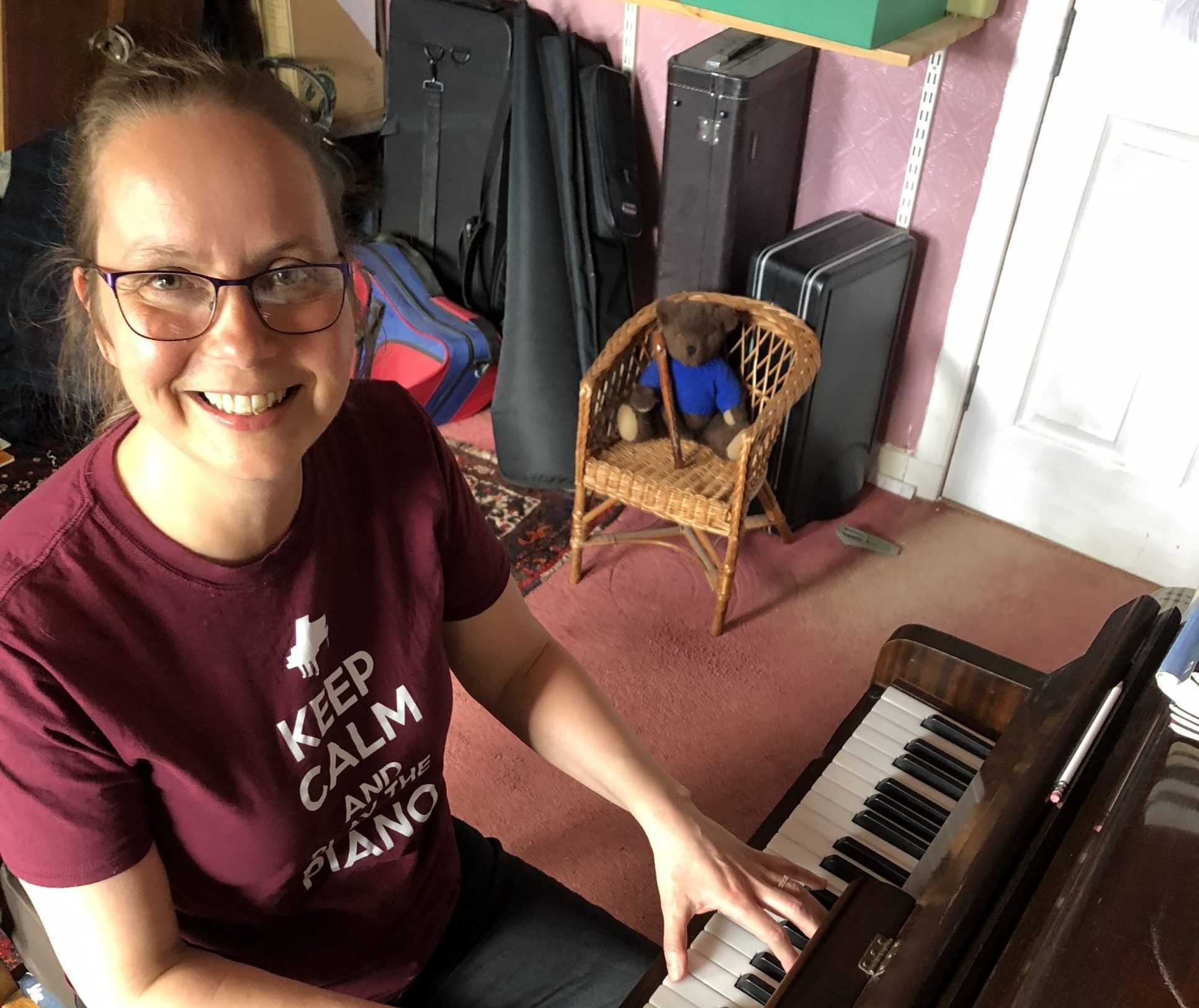 Couch-to-Grade-8 Challenge!
When we launched the Grade-one-a-thon challenge to help raise funds for SScOT, we thought it would be a fun way to raise awareness and pick up a few new skills along the way….little did we know how far SScOT tutor Katrina Gordon would take the idea!
A brush with Covid-19 in spring 2020 left Katrina with painful Costochondritis – an inflammation of the chest ligaments which meant an enforced break to her usual trumpet, flute and bassoon practice. Never known to shy away from a challenge, she picked up a new instrument….
"Despite reluctantly being coaxed into becoming a piano teacher in recent years, I'm rubbish at playing the piano myself! I was the child who literally cried, age 5, when I reached the "hands together" page in my piano book. I simply gave up, moved to woodwind, and watched in awe as my two sisters took piano lessons to grade 5, and my talented brother just seemed to effortlessly sit down and play piano by ear with no lessons at all!! How did they do that???? It seemed impossible to me….
Age 16 I got a grip, took one year of piano lessons (thanks Val Smith!) and learned to play the first two pages of a Mozart sonata (v..e..r..y….s..l..o..w..l..y….) because piano was a mandatory requirement for my music college entrance exams. That was literally the only tune I could play, and despite the best efforts of my long-suffering piano teacher at the Royal Academy of Music, it was still the only tune I could play at the end of my 1st year, when it was politely suggested I should transfer my "second study" to contrabassoon! So I gave up piano playing for the second time aged 18, and considered myself to be a non-pianist beyond all hope for the next 20 years.
Living in a rural community, I was eventually persuaded to start teaching beginner piano. I was reassured that if any of my pupils got beyond grade 3 I could hand them over to my partner in life and crime, Susie Dingle, for more advanced tuition. But one pupil stubbornly refused to transfer: this week, after 9 years of lessons with me and countless hours of private practice, Niamh has opened her Grade 8 piano book – definitely more daunting and terrifying for me than it is for her!!! My star pupil aims to sit her grade 8 in June 2021 – a very realistic goal – while I have thus far continued to specialise in playing piano one hand at a time…
So, thank you, Costochondritis, and thank you, Niamh, for inspiring this "couch to grade 8" challenge!"
Katrina started the challenge on 5 May 2020 and has since practiced every day, logging over 570 hours at the piano. She's raced through grades 1-7 and is taking her grade 8 this Wednesday, 5 May, less than a year after first starting! She'll even be livestreaming the exam – check out the Facebook event here.
Over the course of the challenge, Katrina has raised an astonishing £2750 for SScOT which has been an absolute lifeline for us over this challenging year. She's upped her fundraising target to £5000, representing minimum wage for all those hours of practice – and we need your help getting us over the line! Donate now at https://www.totalgiving.co.uk/mypage/couch_to_grade_8_piano/
Every penny helps us go back to making music together – we're so grateful for your support!