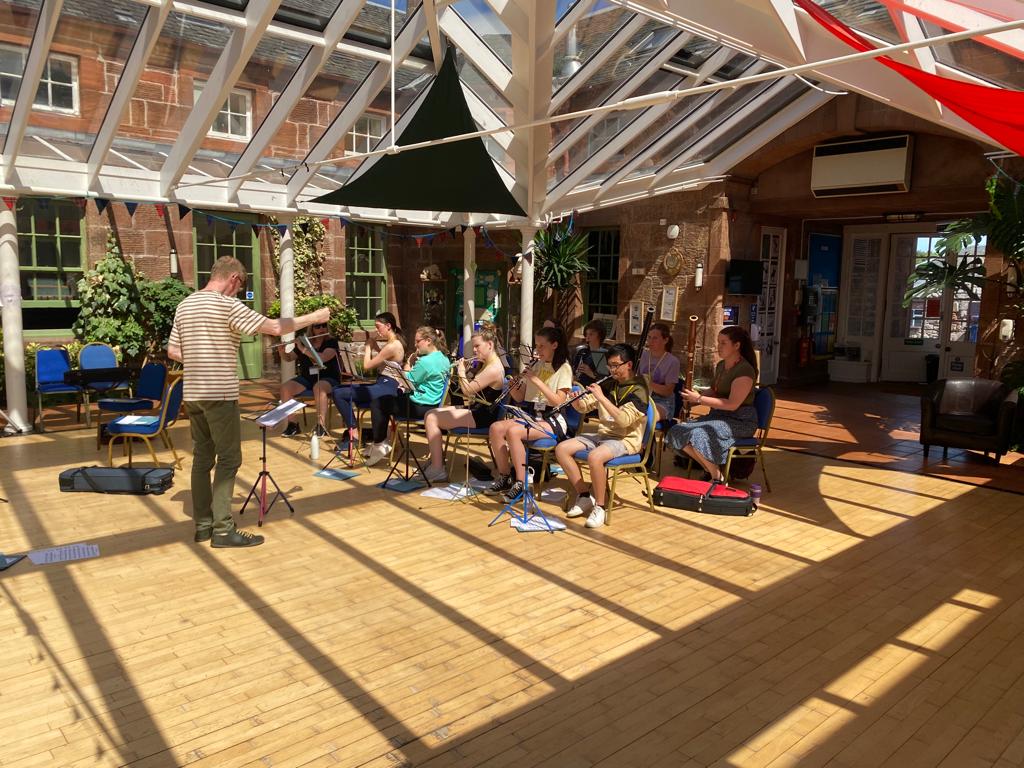 Play Away Days are events in which we form a String Orchestra, a Wind Band and a Symphony Orchestra from scratch, learn a variety of repertoire and put on a concert – all in one day!
Play Away Days are a great opportunity for younger children to experience ensemble playing for the first time, and for older children to build on their existing experience, make new friends and reconnect with friends they met during our summer courses and previous Play Away Days.
---
Spring Play Away Day
Sunday 3rd of March 2024
Hutchesons' Grammar School, Glasgow
The event will run from 10am-4pm and includes a mix of full rehearsals and sectional rehearsals, and a quiz at lunchtime. The day ends with a final concert, where the participants will showcase to each other what they have been working on.
Who can come?
Play Away Days are open to any child age 8 – 15 who play a string or wind band instrument at grade 2 and above. There are no auditions. Please note that unfortunately we are not able to accommodate guitar players, recorder players or pianists at Play Away Days. If your child is a percussionist please contact us on [email protected] before booking to discuss provision of instruments.
What does it cost?
The subsidised cost of the day is £39.50.
How to sign up
Our Play Away Days are always very popular so early booking is advised!
To book a place on the Play Away Day please fill in our online application form.
After completing the form you will be directed to an online payment system, or you can choose to send us a cheque. Final information about the day will be sent to participants the week before the course.
Please ensure you read the terms and conditions of booking and our privacy policy.
---
Play Away Day Staff
Susan Dingle
Conductor of the Wind Bands
Susan has an honours degree in music from Sheffield University and an M.Mus (conducting) from the RSAMD (now the RCS) in Glasgow, where she studied with Martyn Brabbins. She also studied at the State Conservatory in St. Petersburg with Alexander Polishchuk and Ilya Musin.
She is principal conductor of the Highland Chamber Orchestra, the Caithness Orchestra and the Wick Choral Society. She was Music Director of the Cumbernauld Choir for 14 years and founder conductor of the Glasgow Caledonian University Choir and has conducted the Renfrewshire Schools Symphony and Stirlingshire Youth Orchestras.
She relocated to Caithness in 2012 and is now running caithnessmusic.com with Katrina Gordon, providing instrumental instruction and group music-making activities for as wide a cross-section of the Caithness community as possible. They recently created the Far North Youth Orchestra for ages 8-13 from Caithness and Sutherland and established the Caithness Junior Orchestra in September 2014.
Joanna Petrie
Conductor of the String Orchestra
Since graduating with a BA (Hons) in music from Durham University and a Certificate of Postgraduate Studies in viola from the RSAMD (now RCS), Joanna has enjoyed building a career which has combined the complementary disciplines of teaching, playing and ensemble direction. She spent the first 15 or so years of her career freelancing for the BBCSSO, the Orchestra of Scottish Opera, the Orchestra of Scottish Ballet and smaller chamber groups, along with teaching across several councils and independent schools in Scotland.
Favourite moments from this time include going on foreign tours, especially to South America where she tried tango dancing; a production of Wagner's Ring Cycle where she learnt the importance of a really tasty packed tea for keeping up energy; and many exciting BBC Proms concerts and recordings where she learnt that people in the queue for the Proms really do put out table-cloths and glasses on the pavement. She also benefited from working with children and adults with additional support needs through the charity Artlink and has tutored for SScOT and other youth orchestras since 2004, where she can pass on her tips for stamina, amongst other topics, to the next generation of players.
Joanna has enjoyed learning what young players like most about ensemble playing through her five-year directorship of the string orchestras at Hillfoots Music for Youth in Alva, and is now a string teacher and Co-ordinator of Co-curricular Music at the High School of Dundee where she has the pleasure of conducting several string ensembles of different ages and levels.
She is currently undertaking further study in just what makes a string ensemble tick with the hope of giving the lasting gift of this wonderful pastime to musicians from the younger generation.