A holiday like no other – Scottish Schools Orchestra Trust's summer courses are a unique opportunity for children to make friends, expand their musical horizons and develop a love of group music-making which will last a lifetime.
SScOT's summer residential course is a non-auditioned, six-day activity holiday including a mixture of outstanding musical teaching, sport and art sessions, and social activities.
Participants will be placed in one of our three ensembles, who they will rehearse with throughout the week, preparing for our final concerts at the end of the course. Led by inspirational conductors, and supported by exceptional instrumental tutors, participants will find motivation and enthusiasm for music-making that lasts throughout the year, as well as making new friends and growing in self-confidence.
We are grateful for the generosity of our funders: the Cruden Foundation, the Hope Scott Trust, the Hugh Fraser Foundation, the JTH Charitable Trust, the Nancie Macie Charitable Trust, the Penpont Charitable Trust and the Tay Charitable Trust who all provided financial support for the Summer Course in 2022.
I enjoyed everything! My badminton improved as much as my cello playing!"

2017 participant
Summer Course 2024
Merchiston Castle School, Edinburgh
14th – 19th July 2024
Who can take part?
The summer course is open to any child aged 9-15, who plays an orchestral or wind band instrument at grade 2 to grade 8 level and beyond. There are no auditions!
What will they play?
Participants will be placed within one of three ensembles.
More advanced players will join the Chamber Orchestra, conducted by Susan Dingle, playing a mix of well- known classical masterpieces and lesser known arrangements. Recent programmes have included works by Dvořák, Bizet, Malcolm Arnold, and even new works written specially for SScOT. Repertoire for 2019 included the overture to Nabucco by Verdi, Malcolm Arnold's Little Suite No.2 and movements from Bizet's Carmen Suites.
Younger players will join the Junior String Orchestra, conducted by Joanna Petrie, or the Wind Band, conducted by Jennifer Kelly, where they will learn music chosen to challenge them at their own level – often including film music and folk music.
There will be an opportunity for musicians of all ages to play together at various points in the week – the Symphonic Wind Band, Brass Ensemble and String Orchestra contain all players of the relevant instruments. Finally, every participant on the course will play together in the Symphony Orchestra, whose performance is always the grand finale of our end-of-course concerts.
I felt really well supported when I was learning the music. This was the biggest orchestra I've played in and it felt awesome!"

2017 participant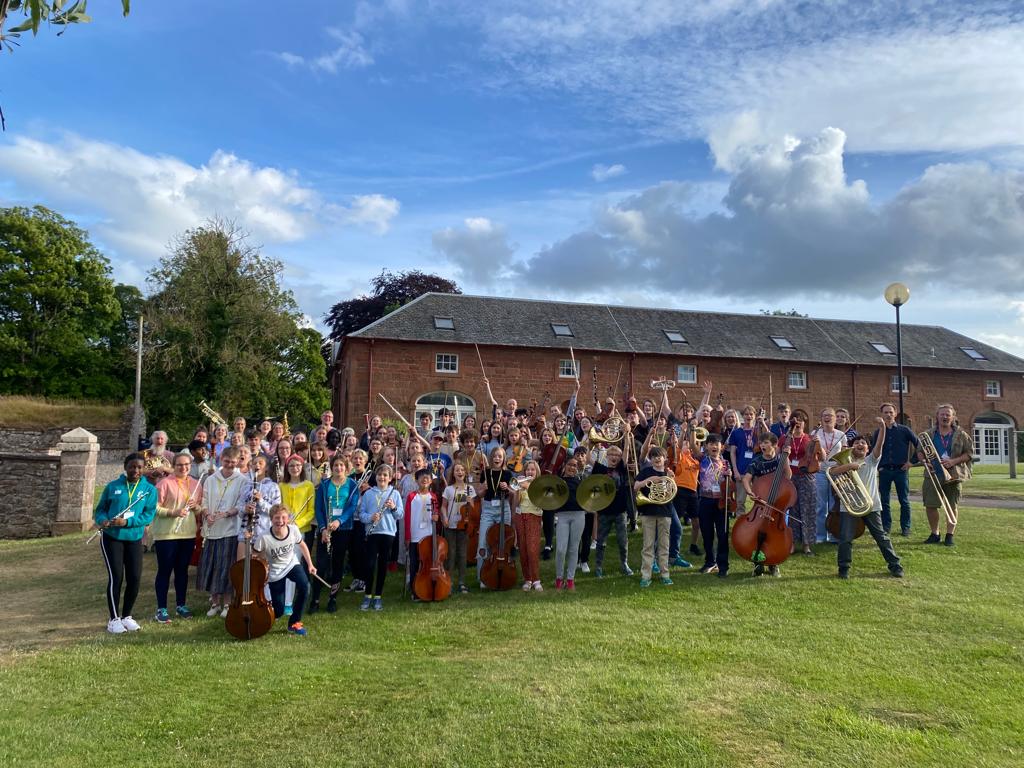 What is the timetable like?
Our timetables are varied, but will always include a mix of sectional rehearsals, ensemble rehearsals, sport or art sessions and an evening entertainment – ranging from concerts to ceilidhs and beyond!
When are the final concerts?
The Concert will be held on the last day of the course, Friday 19th July, at Central Hall, Tollcross, Edinburgh, 3pm.
Tickets cost £10 for adults and £5 for school children.
Words always fail me when I witness what has been achieved in a week. It's astounding."

Parent of 2017 participant
What does it cost?
The course costs £550 for applications received before 1 May 2024, or £575 after this date. This sum covers accommodation and all meals, a full timetable of activities, an expert team of conductors, tutors and pastoral staff, and memories that will last a lifetime!
Payment can either be made as a lump sum, or in two instalments: a deposit of £200 on booking and the balance by 1 June 2024. We are happy to discuss alternative payment schedules if necessary: please contact [email protected] with your request.
Thanks to our generous funders our course costs are already considerably subsidised versus the real costs of delivering the course, which would be about £750 per participant. However, we know our fees can be out of reach for some families and we are determined to keep SScOT as accessible as possible, so please see our bursaries page for information about financial support available.
In the event of withdrawal, £30 will be kept from the deposit to cover administrative costs. The deposit will be forfeit for withdrawals within one month of the start of the course, unless supported by a medical certificate. No refund of fees will be made for withdrawals less than a week before the course start date. Please see our full terms and conditions of booking.
How to apply
You can now book online for our summer course.
---
Summer Course Staff
Jennifer Kelly
Conductor of the Wind Bands
Jennifer Kelly studied bassoon and contrabassoon at the then Royal Scottish Academy of Music and Drama, winning the Mary D Adams prize for Chamber Music in her final year and graduating BA Honours (Musical Studies) with an endorsement in Woodwind Teaching. She enjoyed a brief spell as a freelance orchestral musician, performing with the BBC Scottish Symphony Orchestra and the Royal Scottish National Orchestra, and is now an Instrumental Instructor for West Lothian Council. In 2009 she gained the Graduate Diploma in Jazz from the University of St Andrews, studying saxophone with Richard Ingham and piano with Richard Michael.
As an educator, Jennifer has worked with many of Scotland's youth bands and orchestras including the ensembles of East Dunbartonshire and Lothian, West of Scotland Schools Concert Band, and the National Youth Wind Ensemble of Scotland, and particularly enjoys the special kind of atmosphere and growth that can be nurtured on residential music courses. She works with wind bands of all ages and stages performing a wide range of repertoire, many of which enjoy success at the Scottish and National Concert Band Festivals.
Jennifer can be found regularly playing bassoon in the Glasgow-based baroque group The Telemann Ensemble, The Bach Ensemble of Edinburgh, and Glasgow Wind Band. She especially enjoys playing for the theatre with semi-professional and amateur Opera companies, and absolutely adores playing reeds for Musical Theatre.
Outwith music, Jennifer is a huge fan of The Beatles, the Harry Potter books, and took up running just before lockdown. She remains hopeful that perhaps one day her dream of appearing as a contestant in Strictly Come Dancing will come true…
Joanna Petrie
Conductor of the String Orchestras
Since graduating with a BA (Hons) in music from Durham University and a Certificate of Postgraduate Studies in viola from the RSAMD (now RCS), Joanna has enjoyed building a career which has combined the complementary disciplines of teaching, playing and ensemble direction. She spent the first 15 or so years of her career freelancing for the BBCSSO, the Orchestra of Scottish Opera, the Orchestra of Scottish Ballet and smaller chamber groups, along with teaching across several councils and independent schools in Scotland. Favourite moments from this time include going on foreign tours, especially to South America where she tried tango dancing; a production of Wagner's Ring Cycle where she learnt the importance of a really tasty packed tea for keeping up energy; and many exciting BBC Proms concerts and recordings where she learnt that people in the queue for the Proms really do put out table-cloths and glasses on the pavement. She also benefited from working with children and adults with additional support needs through the charity Artlink and has tutored for SScOT and other youth orchestras since 2004, where she can pass on her tips for stamina, amongst other topics, to the next generation of players. Joanna has enjoyed learning what young players like most about ensemble playing through her five-year directorship of the string orchestras at Hillfoots Music for Youth in Alva, and is now a string teacher and Co-ordinator of Co-curricular Music at the High School of Dundee where she has the pleasure of conducting several string ensembles of different ages and levels. She is currently undertaking further study in just what makes a string ensemble tick with the hope of giving the lasting gift of this wonderful pastime to musicians from the younger generation.
Susan Dingle
Conductor of the Symphony Orchestra
Susan has an honours degree in music from Sheffield University and an M.Mus (conducting) from the RSAMD (now the RCS) in Glasgow, where she studied with Martyn Brabbins. She also studied at the State Conservatory in St. Petersburg with Alexander Polishchuk and Ilya Musin.
She is principal conductor of the Highland Chamber Orchestra, the Caithness Orchestra and the Wick Choral Society. She was Music Director of the Cumbernauld Choir for 14 years and founder conductor of the Glasgow Caledonian University Choir and has conducted the Renfrewshire Schools Symphony and Stirlingshire Youth Orchestras.
She relocated to Caithness in 2012 and is now runningcaithnessmusic.com with Katrina Gordon, providing instrumental instruction and group music-making activities for as wide a cross-section of the Caithness community as possible. They recently created the Far North Youth Orchestra for ages 8-13 from Caithness and Sutherland and established the Caithness Junior Orchestra in September 2014.