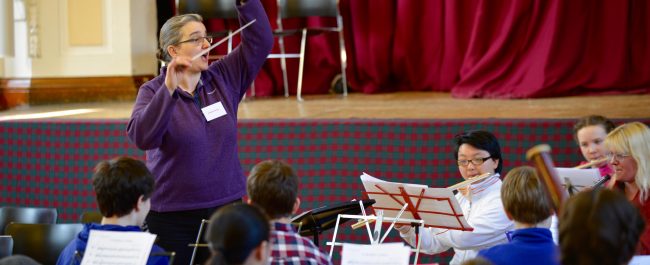 Tutor team announced for Summer Course
We are delighted to announce the full list of instrumental tutors who will be attending the SScOT Summer Course 2018. We pride ourselves on working with tutors who have a wealth of experience and are skilled at working with children of all ages. Many return year after year and have proved their extraordinary talent for bringing out the best in our ensembles over the course of the week.
Conductor of the Symphony Orchestra: Matthew Rowe
Conductor of the Junior Strings: Joanna Petrie
Conductor of the Wind Band: Susan Dingle
Conductor of the Brass Ensemble: James Chamberlain
Flute: Kate Chisholm
Oboe and Bassoon: Simon Milton
Clarinet and Saxophone: Vaughan Townhill
French Horn: Rachel Brady
Trumpet and Cornet: James Chamberlain
Trombone and Tuba: Pete Petrie
Violin 1: Peter Caunce
Violin 2: Anne Giles
Viola: Peter Kemp
Cello and Bass: Shelagh Fuller
Percussion: Polly McMillan
Sport: Jamie Milne and Heather Millar
Art: Jane Weatherly
Nurse: Samantha Cameron
Co-directors: Kate Whitlock and Chris Turley
The tutors will be joined by an invaluable team of student assistants who support the running of the course in a variety of different ways.
If you're interested in finding out more about the summer course, email Kate Whitlock on [email protected].