Summer Course 2018 – in pictures
The sun shone over Dunblane this summer as 77 young musicians and 28 staff and assistants descended on Queen Victoria School for a week of fun and hard work at SScOT 2018.
Sectional rehearsals allow for quality time with the instrumental tutors, working on tricky corners of the repertoire and thinking about technique.
Full rehearsals are where we put together the programme for the final concert, learning how to really listen to each other and play as a team.
The Grand Orchestra involves every single course participant and is so vast that it's impossible to fit into a photo!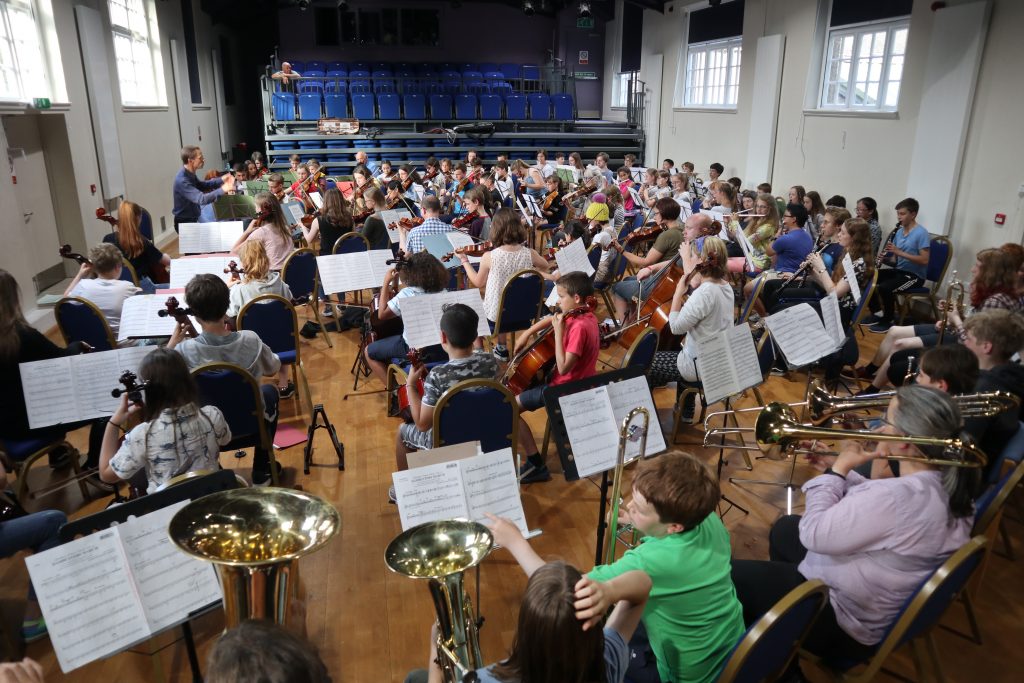 But we also need time to decompress, and sport and art sessions are a great opportunity to clear the mind, chat to your friends and recharge your energy before heading in to the next rehearsals.
The evenings provided an array of entertainment and activity including a quiz, a ceilidh, and the always-spectacular staff and participant concerts – the cello section really raised the bar when they performed in an array of jungle masks!
The final concert is always a spectacular showcase of the hard work, energy and enthusiasm displayed by all our participants and this year was no different.
The full programme performed in the final concert was as follows:
JUNIOR STRING ORCHESTRA
Conductor: Joanna Petrie
Mr Isaac's Maggot John Playford arr. Edward Huws Jones
Shepherd's Hey Trad arr. John Parsons
Haybaler Hoedown Trad arr. Lloyd Conley
The Muppet Show Theme Jim Henson / Sam Pottle arr. Elliot del Borgo
Can You Feel The Love Tonight Elton John, arr. Elliot del Borgo
WIND BAND
Conductor: Susan Dingle
The Earl of Oxford's March William Byrd arr. Mark Williams
As Tears Fall On Dawn's New Light Richard L Saucedo
Take Five Paul Desmond arr. John Edmondson
Creed William Himes
STRING ORCHESTRA (all string players)
Conductor: Joanna Petrie
Humoresque Dvořák arr. Robert Longfield
Colours of the Wind Alan Menken arr. John Higgins
SYMPHONIC WIND BAND (all wind, brass & percussion players)
Conductor: Susan Dingle
Mazama Jay Chattaway
BRASS ENSEMBLE (all brass players)
Conductor: James Chamberlain
Sonata Pian' e Forte Giovanni Gabrieli arr. James Chamberlain
SYMPHONY ORCHESTRA
Conductor: Matthew Rowe
Overture to "The Merry Wives of Windsor" Nicolai
Nocturne, from "King Christian II" Sibelius
Soirées Musicales Britten
GRAND ORCHESTRA (all course participants)
Conductor: Matthew Rowe
Dambusters March Eric Coates arr. David Andrew
It takes a huge team to make the summer course happen and we'd like to thank everyone involved for their hard work and dedication! This year's staff team were…
COURSE DIRECTORS
Kate Whitlock & Chris Turley
CONDUCTORS
Matthew Rowe (Symphony and Grand Orchestras), Joanna Petrie (String Orchestras), Susan Dingle (Wind Bands), James Chamberlain (Brass Ensemble)
TUTORS
Kate Chisholm (flute), Simon Milton (oboe/bassoon), Vaughan Townhill (clarinet/saxophone), Rachel Brady (horn), James Chamberlain (trumpet), Pete Petrie (trombone/tuba), Polly McMillan (percussion), Peter Caunce (violin), Anne Giles (violin), Peter Kemp (viola), Shelagh Fuller (cello/bass)
HOUSE PARENTS
Samantha Cameron (nurse), Heather Millar, Jamie Milne, Chris Turley
RECREATIONAL STAFF
Heather Millar & Jamie Milne (sports), Jane Weatherly (arts and crafts)
ASSISTANTS
David Cumming (trumpet), Eleanor Figures (horn), Belinda Hawes (bassoon), Ali MacQueen (double bass), Rebecca McManus (cello), Lauren O'Malley (percussion), Rosie Randall (oboe)
ACKNOWLEDGEMENTS
SScOT gratefully acknowledges financial assistance from:
The Turtleton Charitable Trust, the D'Oyly Carte Charitable Trust, the Hugh Fraser Foundation, the Tay Charitable Trust, the Cruden Foundation, the JTH Charitable Trust and a generous anonymous bequest.
SScOT would also like to thank all those whose interest, help and encouragement has made this year's course possible; the parents and teachers who have enabled their children to attend; the staff of Queen Victoria School, Dunblane, who welcomed us and looked after us so well; Malcolm Porteous and the City of Edinburgh Council for providing music; Madras College, Edinburgh Academy, and Polly McMillan, who have lent instruments; generous friends of SScOT who wish to remain anonymous, but have helped in many ways.